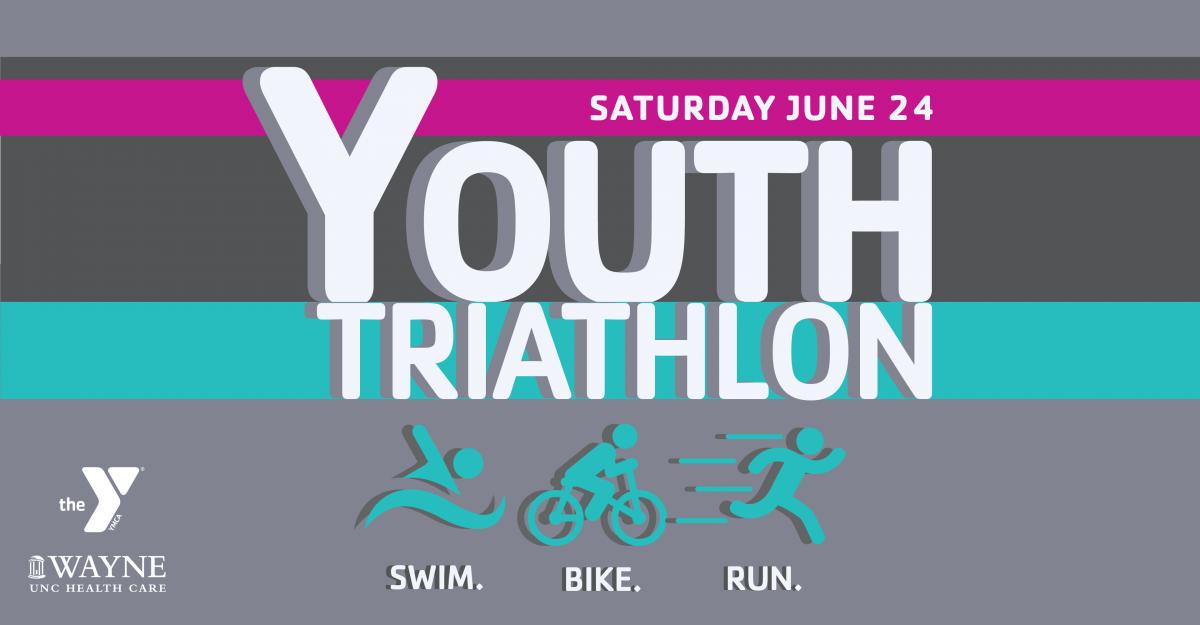 JUNE 24, 2017
The Goldsboro Family YMCA, along with Presenting Sponsor WAYNE UNC Health Care, is excited to announce that the Youth Triathlon is back! Kids- go ahead and start training!
Event begins and ends at the Goldsboro Family YMCA, with swimming taking place at the Y pool and the bicycling and running segments using supervised areas roadways in the immediate area.
Age groups and event distances:
ages 6-9 - 25 yard swim, 1 mile bike ride, 1/2 mile run
ages 10-12 - 50 yard swim, 2 mile bike ride, 1 mile run
ages 13-17 years - 75 yard swim, 5K bike ride, 2 mile run
All participants must have a bike, helmet, and running shoes. Lifeguards will be provided for safety.
This event is timed and all finishers will receive an official race medal, and early bird registrations will receive a free race t-shirt.
REGISTRATION: Early Bird - $25 before June 9th; Otherwise $35 from June 10-23. No race day registrations available.
PACKET PICKUP: Available Friday June 23rd 5:30pm-7:30pm, and on race day.
REGISTER AT RUNSIGNUP.COM TODAY!
2016 RECAP
On Saturday June 25th, 2016 77 youth lined up their bicycles in the Y parking lot, got their swimming gear ready, and headed out on a race of a lifetime. For most, this was their very first event of this type. Their first time venturing into the world of triathlons. But also for most, certainly not their last.
The first annual Youth Triathlon was a huge success, packed with supporting family members, and allowed kids from ages 6-15 to experience something like never before in our area.
Broken into age groups, the 9 & under completed a 25 yard swim, 1 mile bike ride and 1/2 mile run. Ages 10-12 did a 50 yard swim, 2 mile bike ride and 1 mile run. Lastly, ages 13-15 years finished a 75 yard swim, 5K bike ride and 2 mile run.
Thankfully, a local triathlon group, the Trifectas, helped coordinate and organize race logistics, and we were honored to have them join us in hosting this new event.